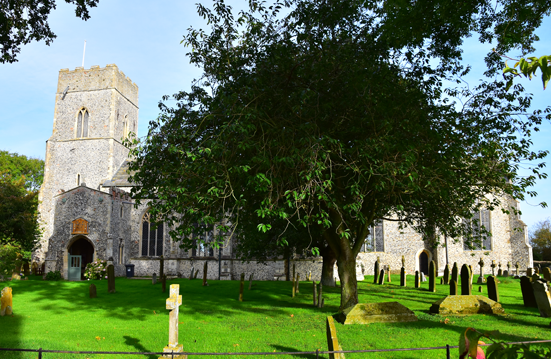 All Saints' is a typical Norfolk parish church; built of flint in the Middle Ages, with a square west-end tower containing six bells, a nave with two aisles, a chancel, a porch with a parvise (room above). It was largely built in the late fourteenth century although the tower may be older, while the chancel and porch are fifteenth century. It has a rood screen between the nave and chancel with sixteen royal saints painted on in the fifteenth century; the arcades have faint medieval paintings discovered in the 1840s underneath the whitewash.  The Victorian seating arrangement replaced earlier box pews around a pulpit in the middle of the nave.
Take a 360 degree virtual tour of All Saints'
Listen to All Saints' church bells
Recorded by Chris Richmond. Visit www.churchbellsofnorfolk.weebly.com to find out more about the bells, how this recording was made, how it is being used at the Mancroft Ringing Discovery Centre, and to listen to other church bells in Norfolk.