Services and Events in the Waterside Group Benefice.
Services and events in the four churches of the Waterside Group Benefice.
For more information about the service or event click on the listing in the calendar.
Calendar of Services and Events
Services and Prayer Meetings
Benefice Holy Communion 7th July 10.00am at St Nicholas Potter Heigham.

Holy Communion, represents the greatest expression of God's love for His people. Today, when we partake of the bread and wine at Holy Communion, we are declaring that Jesus' divine life flows in our mortal bodies and that we are forgiven and have been made righteous. Jesus' blood gives us right standing before God, and we can go boldly into God's presence (Hebrews 4:16). When we pray, we can be sure that God hears us! Join us for our benefice service of Holy Communion, all are welcome.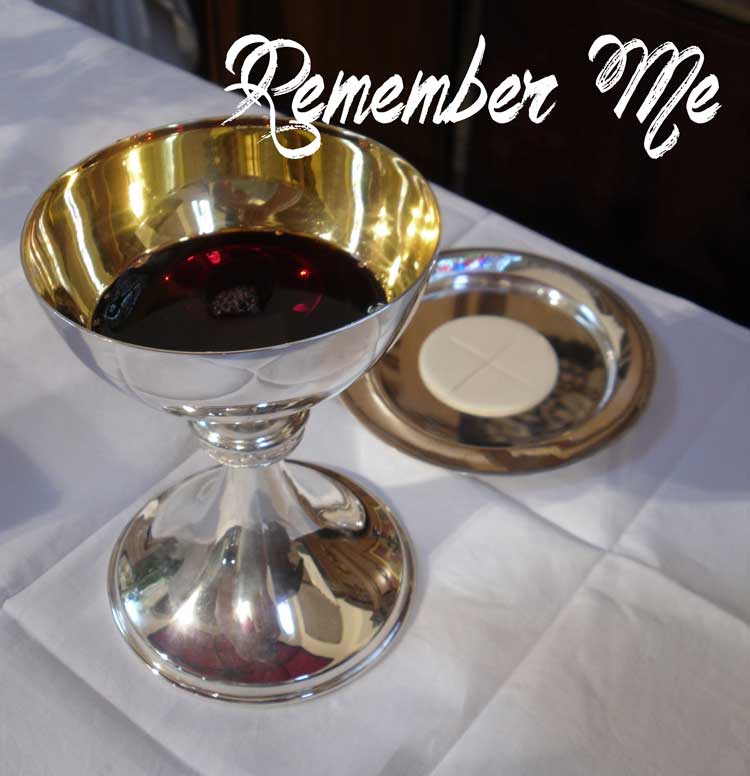 Julian Prayer Meeting in Hickling every third Tuesday in the month.
Are you drawn to Christian Contemplative Prayer and Meditation. In silent, contemplative prayer we seek to be aware of the presence of God and to remain in that presence, completely open to God. Waiting, Listening, Open here we meet with God. "All we can do in prayer is dispose ourselves.  The rest is in the power of the Spirit who leads us.'" Theresa of Avila 16th C
For more information contact Zephney Kennedy Tel: 01692 598095 email: zlkndy@gmail.com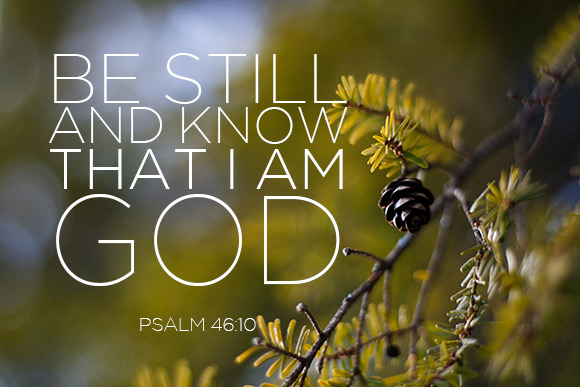 The Daily Office of Morning Prayer
Benefice Morning Prayer
Join us at St Catherine's Church during the week for a short time of prayer and scripture reading as we celebrate morning prayer.
Morning Prayer is said at St Catherine's Church, Ludham throughout the week. The office is said from Common Worship: Daily Prayer, embracing the three key elements of praise, intercession and engagement with Scripture.
All are welcome to join us for Morning Prayer.
Monday, Thursday and Friday - 7.30am (except Bank Holidays)
Tuesday, Wednesday and Saturday at 8.30am
Online Daily Prayer
Click the link below to view an online copy of Morning and Evening Prayer on the Church of England website.
Event
Pimms & Puddings Friday 21st June part of All Saints' Church Flower Festival
All Saints' Church Flower Festival kicks off on the evening of 21st June at 7.00pm with a musical preview evening, Pimms & Puddings. Enjoy a glass of Pimms or a soft drink whilst previewing the flower arrangements then enjoy a selection of popular tunes from the organ before indulging in a selection of delicious homemade puddings.
Tickets are £7.00 each available from Century Print, Stalham or tel: 01692 580362
All Saints' Church Flower Festival Weekend 22nd & 23rd June 10.00am - 4.00pm
All Saints' Church Flower Festival plus 'Open Garden' at Catfield Old Rectory. Come along and view some stunning flower arrangements on the theme of Anniversaries, also Vintage Tractors refreshments in the Rectory Garden.
There will be a tombola, raffle, plants, books, jams and cakes plus much more. All in aid of All Saints' Church Catfield.
Ludham Open Gardens
Sunday 23rd June Gardens Open 10am-5pm
Ludham a beautiful village in the Norfolk Broads opens its gardens bi-annually. With a range of gardens open to the public, many with river frontage. Lunches, cream teas, tea and cakes, arts and crafts, wherries and heritage fleet, professional gardening advice, ferries across the river to gardens on both sides (some ferries with disabled facilities), vintage car display.
Sorry, but no dogs please other than assistance dogs. All proceeds for this event go towards the upkeep of our Parish Church of St. Catherine.
Cost £7.00 adults, accompanied under 12s free. Buy ticket/map at the car park, coach park or any garden.
Contact the organisers Email: thewalls@broadland.net
Free Concert
Sunday 21st July 4.00pm St Mary's Church
The band 'Out of Egypt' will be playing at a free concert held in St Mary's Church Hicklingh. there'll be a glass of wine, nibbles and tea and coffee available. It's all part of a fund raising event, so donations are accepted.
Come along and have a little fun while you sing along with the band!
Ludham Little Dragons
Ludham Little Dragons parent/carers baby/toddler group meets every Friday in St Catherine's Church Room at 9.00am until 11.00am.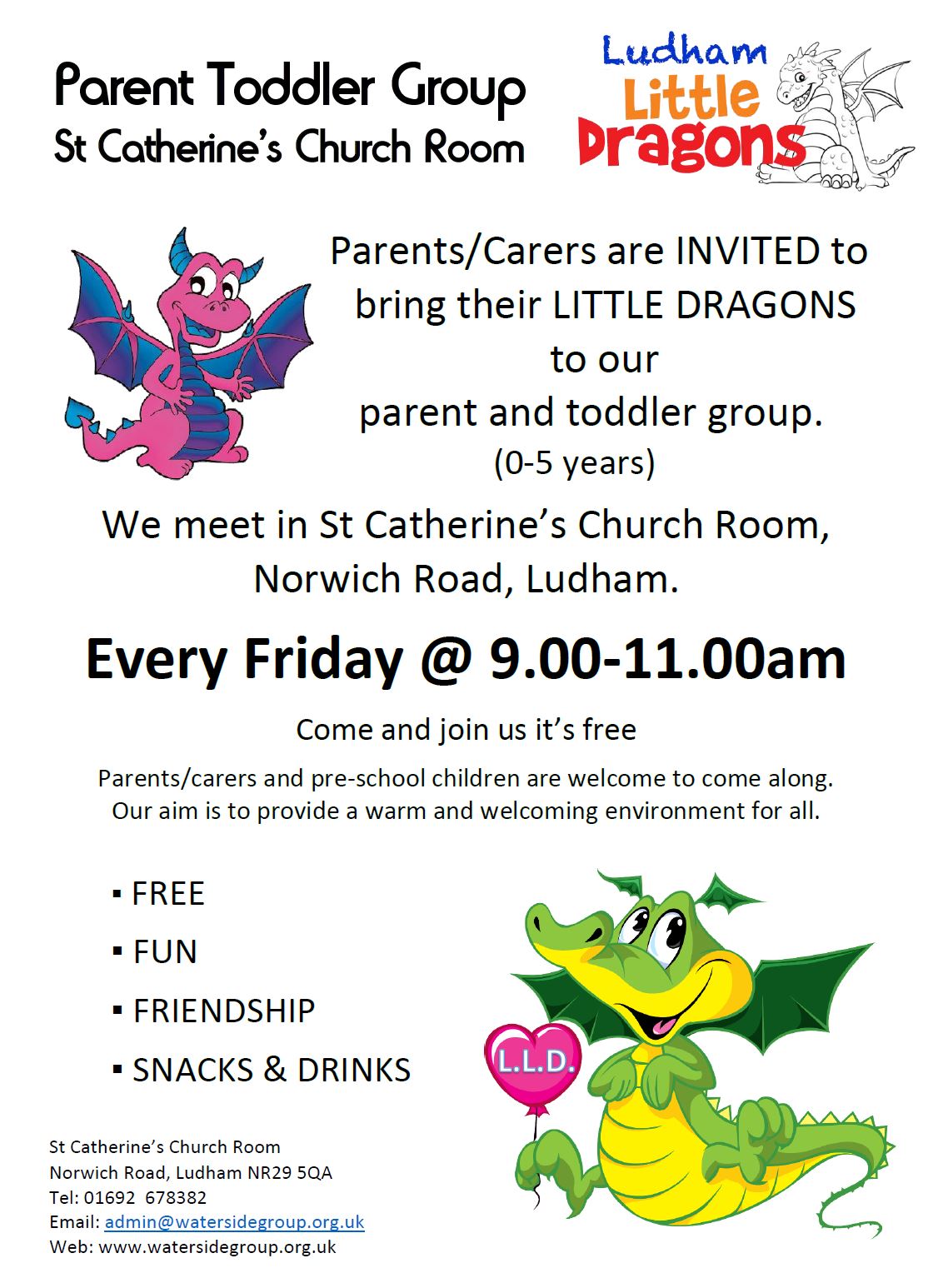 News
Service of Dedication at St. Mary's Church Hickling
On Sunday 7th April The Rt Revd Alan Winton Bishop of Thetford blessed the completion of building works at St Mary's Church in Hickling. After many years of planning and preparation St Mary's is the first church in our benefice to have toilet facilities within the church. Through the amazing generosity and hard work of our Church congregation and the local community people attending services such as weddings, funerals, baptisms and school services such as Christmas now have the benefit of such a lovely loo!
The Rt Revd Alan Winton and Revd Deborah Hamilton-Grey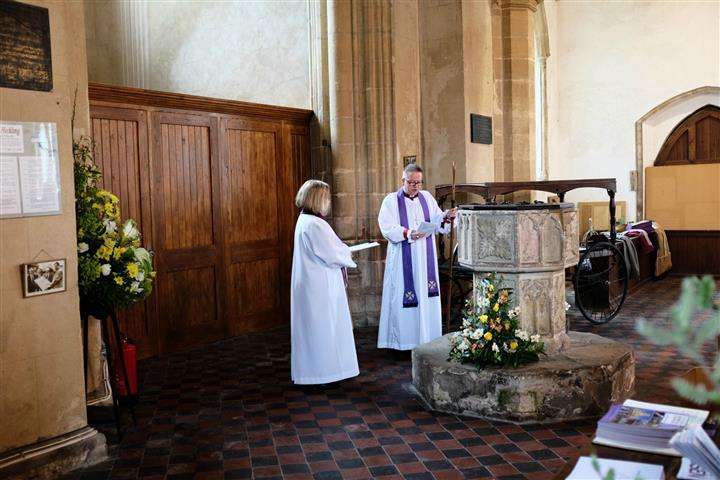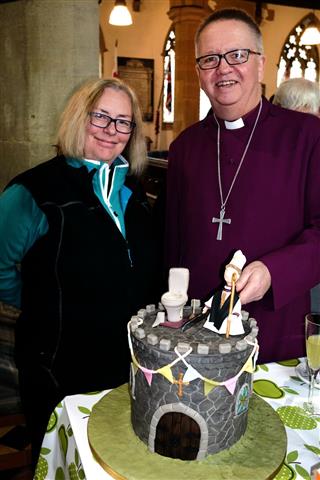 New young organist plays for the first time at All Saints' Church in Catfield.
Sunday 31st March Connie aged 14 played the organ at All Saints' Church in Catfield for their Mothering Sunday Service. It was Connie's first time playing the organ and leading us in worship, great job Connie, Well done!
Revd Deborah Hamilton-Grey with Connie, Connie's mother and twin sister after the service at All Saints Catfield.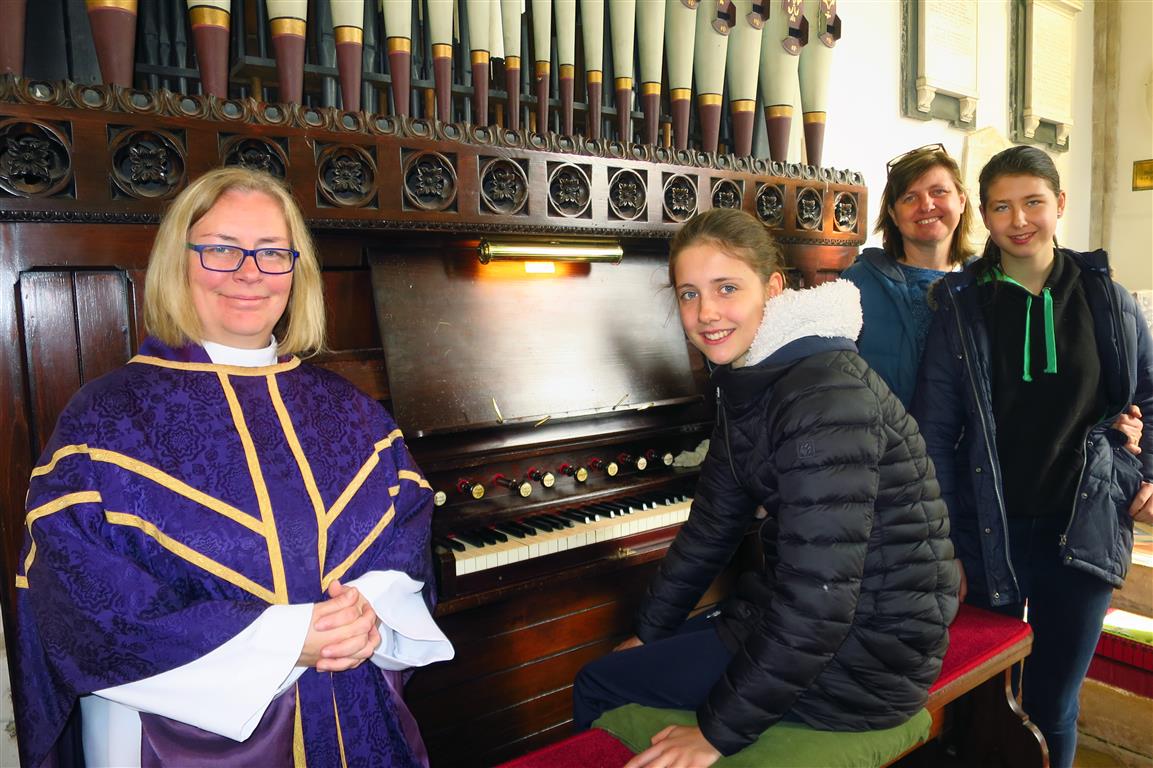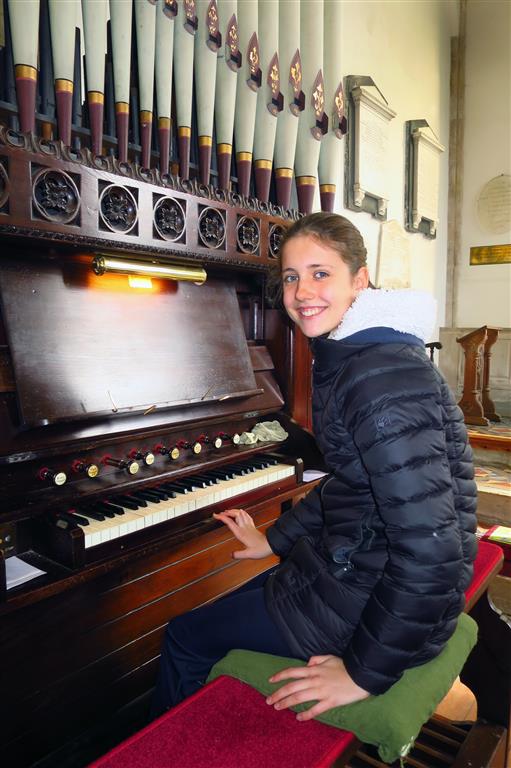 St Benet's Abbey 1000 Year Celebration
A large monk made from woven willow and hessian arrived at St Catherine's Church in Ludham. Revd Deborah said "I am delighted to be able to welcome our special guest to St Catherine's Church in Ludham today. Withy Arts have created the most wonderful willow sculpture of a Monk as part of the 1000 year celebration that is taking place in the coming months at St Benet's Abbey.
A big thank you to Fay and Sarah from Withy Arts and Trish from The Friends of St Benet's.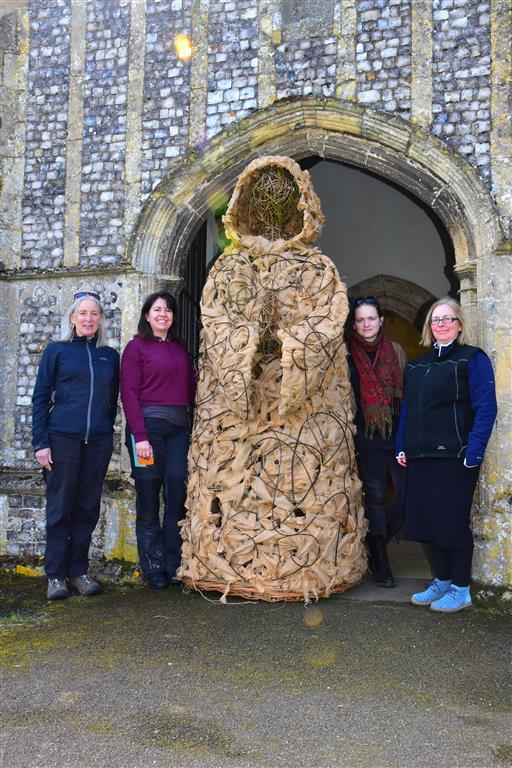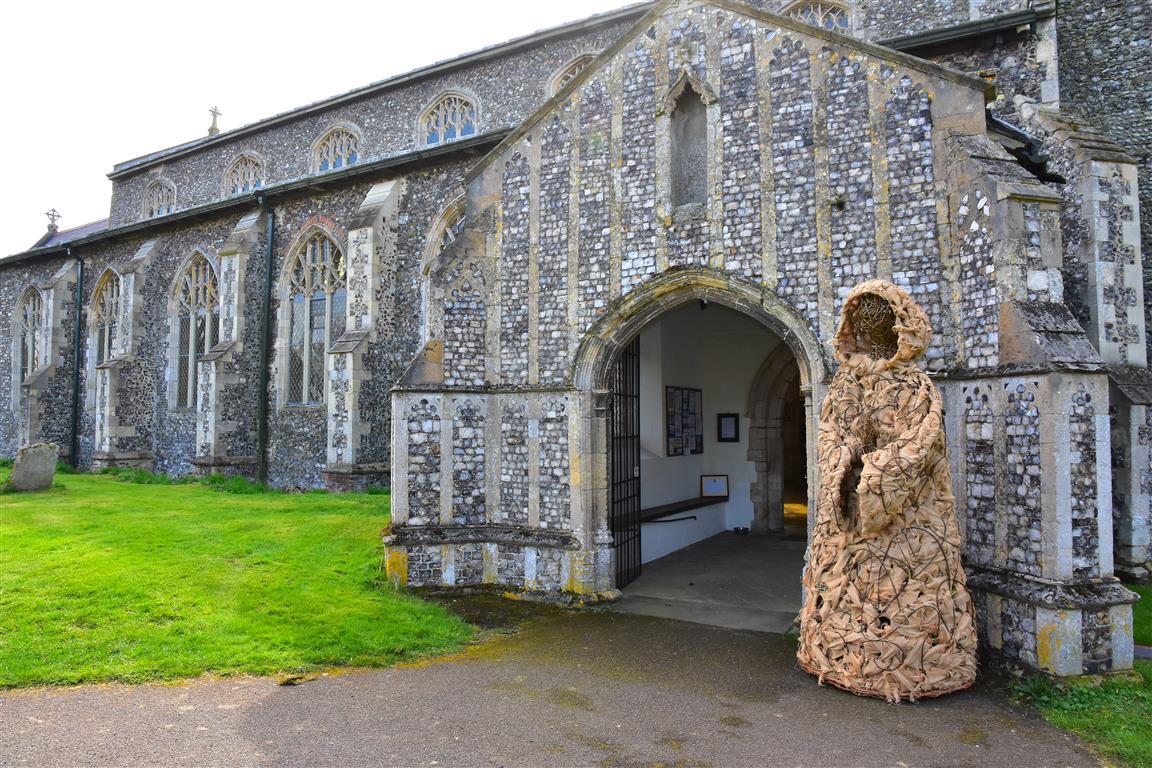 Focus On The Waterside Benefice
The Diocese of Norwich monthy magazine regularily focuses on a parish or benefice. In the July - August 2018 edition of The Magazine focused on the Waterside Benefice and all the good things that happen in our parishes linked with The Diocese of Norwich Mission Strategy four 'streams' of work - Listening Imagening Empowering and Celebrating. (click on the picture below to see the article)

St. Benet's Abbey Annual Service
St. Benet's Abbey Annual Service on Sunday 5 August 2018 with the Abbot of St Benet's, the Bishop of Norwich, the Rt Revd Graham James. The service was led by the Prior with the Abbot preaching and prayers led by representatives of other local denominations, supported by local choirs and the North Walsham Salvation Army Band. This was a lovely service in such an ancient holy place.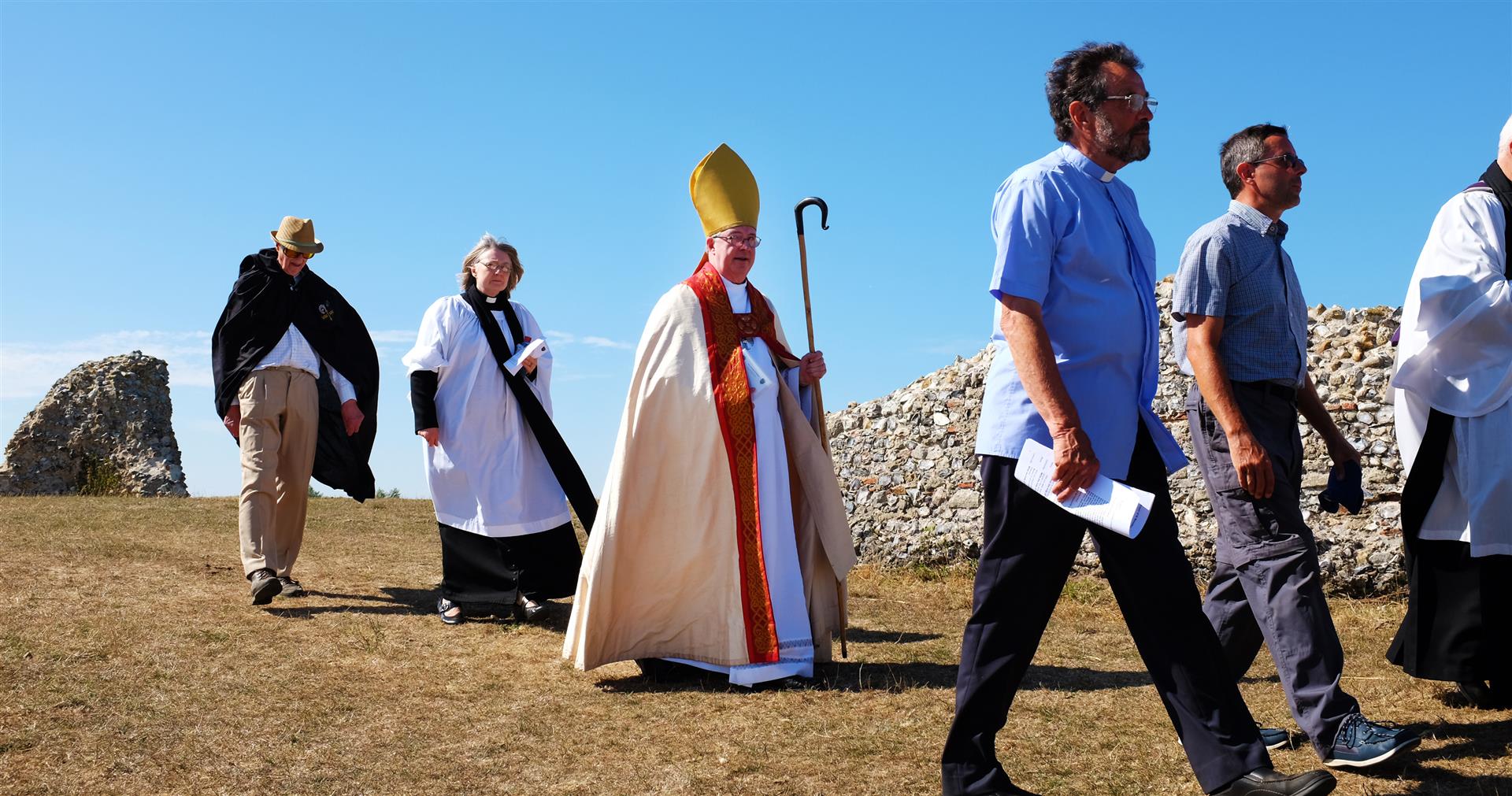 Would You Like To Be More Involved In Your Local Church
All are welcome. We need musicians, readers, singers for the choir/worship group, people who would like to pray, worship assistants, help with buildings and maintenance. People to help with youth and children's work, people who would like to help with pastoral care, fundraising people. Would you like to host a house group or fellowship group? There are many opportunities for all.
In the first instance please get in touch with Revd Deborah Hamilton-Grey
email: rector@watersidegroup.org.uk
tel: 01692 678382
How to reach us
Rector of the Waterside Group Benefice: The Revd Deborah Hamilton-Grey
Phone

01692 678382

Facebook

Address

The Rectory
Norwich Road, Ludham
Great Yarmouth
NR29 5QA

Benefice Administrator
Media
Take a look at some photographs or video from past events and services on our photo galleries, click on the link below.